The global animal drug market is expected to continue to grow and become more specialized as more consumers become concerned about companion animals' well-being.
Companion Animals Statistics in the U.S.
As of 2017, there are approximately 90 million dogs living in a house as pets.
It is estimated that Americans spend about $60 billion a year on their companion animals.
According to APPA (American Pet Products Association) in 2016, 68% of households were raising pets, 54% of which were dogs.
<Expenditure related to companion animals by year>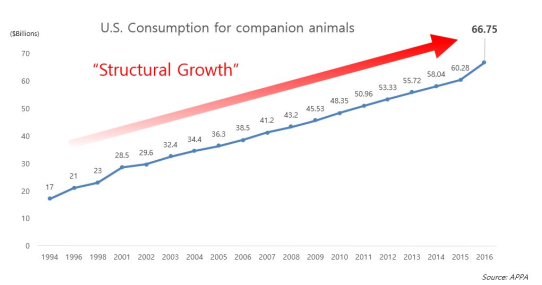 Companion Animal Healthcare
In the US, companion animal medical expenditures have has exceeded $15 billion during 2014, these expenses mostly consist of animal healthcare and surgery. Furthermore, cancer is the number one cause of death in dogs older than 2 years and there are approximately 6 million new cancer cases every year. (NC State College of Veterinary Medicine).
PLS-D5000 is an anti-cancer immune-therapy with indication in B cell lymphomas. It is meant to target the US market first, the largest market for companion animals and waiting approval for pivotal study from USDA. Moreover, in 2017, PLS-D5000 has been selected by the South Korean government as a national project and is under development.

PLS-D5000 is an immune-therapy that targets cancer in dogs. The clinical test has shown it is effective in the both treating and preventing tumors. This product is not only affordable, but provides an option for those types of cancer that cannot be treated.